Custom Firefighter Maltese Pendants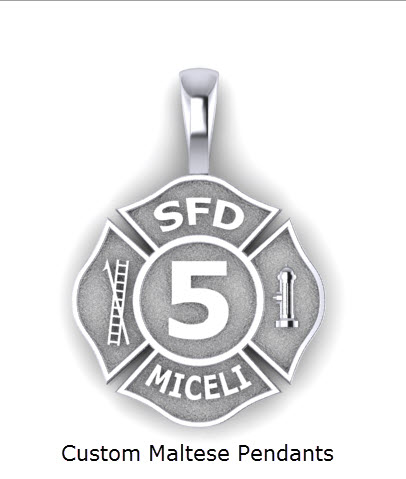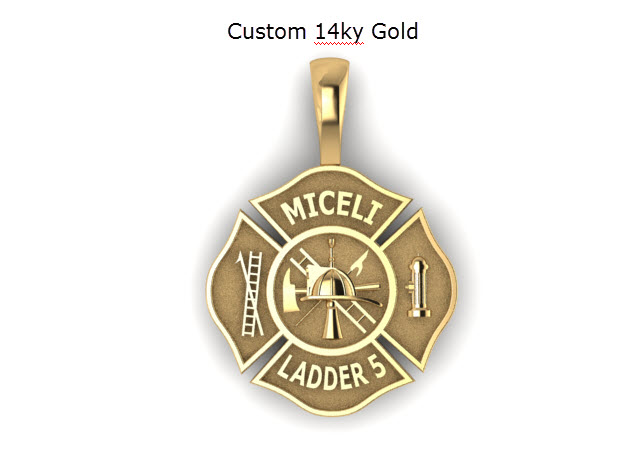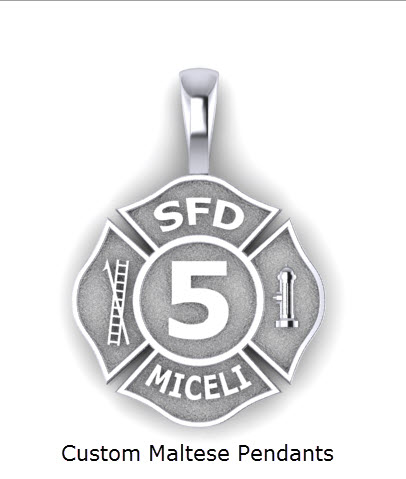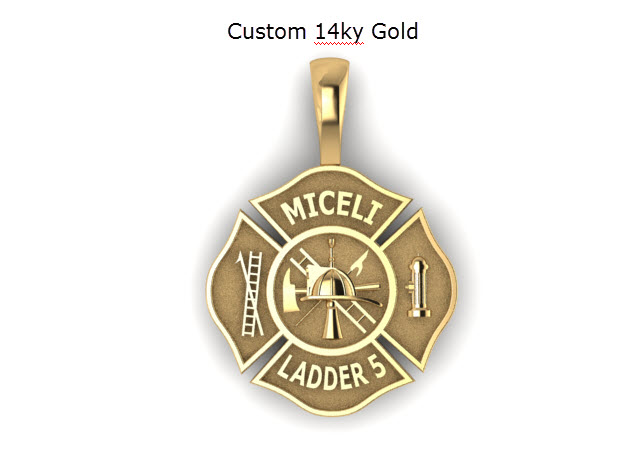 Custom Firefighter Maltese Pendants
Make sure to order a chain with your pendant. Chains shown in pictures are not automatically included. Every custom pendant and ring is hand fabricated by a master craftsman and typically takes 3 to 4 weeks after design approval for the item to be ready to ship. Please understand that perfection takes time!
This custom firefighter's maltese cross pendant is hand crafted out of the solid metal of your choice. Your choices include, Sterling Silver, 14kw gold, 14ky gold, 14k Two Tone gold or Platinum. Each pendant is designed and created by designer and master jeweler Mark Miceli, according to your own design instructions. The variation of design options is only limited by your imagination. Some ideas include, Department Logo, St. Florian on the back side of the pendant, IAFF Logo, Star of Life, Helmet Scramble, Jaw's of Life, Bugles, Caduces, Badge number, Engine Number, Ladder Number, The pendant in the picture features a Helmet Scramble in the center. If you have custom artwork such as a custom fire station logo please send it in a separate email to firedog.orders@gmail.com and reference your order number.
Don't forget to add a chain to your purchase! We offer several styles of solid Italian chain in various metals including 14kw & 14ky gold, Sterling Silver, and Stainless Steel. Not only do we offer very competitive prices, but all of the chains we sell are strong, fashionable and simply the best available and go well with our pendants. The bail that the chain goes through is large enough to accept an exceptionally heavy pendant chain of up to 5mm thick. Most men choose to wear a 24" chain length so that the pendant rides below the collar line. Most women wear an 18" chain length so that the pendant rides below the collar line. Lengths available are 18", 24" and 30" for most chains.
Once your order is placed, a rendered picture of the design will be sent to the email address you provide. Please examine this picture and inform us of your approval or any changes that need to be made. After the design is approved a true Master Jeweler will begin fabricating your pendant. The finished weight is approximately 7.8 grams. Each pendant measures 1 inch across (same as a US quarter) and is approximately 2mm thick (same as a US nickel). Please include all of the design information on the order form to guide us through your unique design! Please allow our craftsman 3 to 4 weeks after design approval for your custom pendant to be fabricated and ready to ship.